Zajęcia językowe prowadzone w naszym przedszkolu odbywają się przede wszystkim w formie zabawy i włączone są w różne działania wychowania przedszkolnego. Stosowane metody i techniki nauczania służą jak najlepszemu opanowaniu przez dzieci słownictwa i struktur gramatycznych. Każdy temat zilustrowany jest piosenką, wierszem, rymowanką. Nieodłącznym elementem naszych zajęć są bajki i historyjki wspierane materiałem wizualnym. Używanie prostych poleceń i słownictwa w trakcie stosowanych zabaw ruchowych, muzycznych czy teatralnych sprawia, że nauka angielskiego odbywa się zupełnie naturalnie i bez większego wysiłku dla dziecka. W wieku przedszkolnym nauczanie języka obcego skoncentrowane jest głównie na umiejętności rozumienia ze słuchu i na podstawach mówienia. Na początku nauki dzieci potrzebują tzw. "cichego okresu" (Silent Period), w którym skupiają się głównie na słuchaniu, wiele zapamiętują ale nie tworzą jeszcze swoich wypowiedzi. Nie należy ich też do tego zmuszać. Pamiętajmy, że zajęcia językowe w przedszkolu mają na celu przede wszystkim osłuchanie się z językiem obcym oraz przygotowanie i zachęcenie do dalszej nauki w kolejnych etapach edukacyjnych.
Małgorzata Basiak-Stręk
JĘZYK ANGIELSKI W PRZEDSZKOLU
Zgodnie z Podstawą Programową Wychowania Przedszkolnego:
Przygotowanie dzieci do posługiwania się językiem obcym nowożytnym powinno być włączone w różne działania realizowane w ramach programu wychowania przedszkolnego i powinno odbywać się przede wszystkim w formie zabawy.
Dziecko na koniec wychowania przedszkolnego: rozumie bardzo proste polecenia w języku obcym nowożytnym i reaguje na nie; uczestniczy w zabawach, np. muzycznych, ruchowych, plastycznych, konstrukcyjnych, teatralnych; używa wyrazów i zwrotów mających znaczenie dla danej zabawy lub innych podejmowanych czynności; powtarza rymowanki i proste wierszyki, śpiewa piosenki w grupie; rozumie ogólny sens krótkich historyjek opowiadanych lub czytanych, gdy są wspierane np. obrazkami, rekwizytami, ruchem, mimiką, gestami.
Nauczanie dzieci języka obcego w przedszkolu jest skuteczne, gdy uwzględnimy ich cechy rozwojowe.
3 latki – ich koncentracja na zajęciach to 5-10 min, dzieci szybko się męczą ale i szybko regenerują siły dlatego na zajęciach języka obcego należy stosować zasadę naprzemienności aktywności ruchowej ze statyczną, umożliwiającą odpoczynek. Chociaż  dzieci potrafią  wykonywać ilustracje z niewielką ilością szczegółów, rysowanie i malowanie pomaga im wyciszyć się i umożliwia skuteczniejsze utrwalanie słownictwa i kierowanych do nich poleceń. Przedszkolaki w tym wieku skupiają się głównie na tym, co dzieje się wokół nich, chętnie biorą udział w  zabawach muzyczno-ruchowych, naśladowczych, z elementami pantomimy.
4 latki – koncentracja na zajęciach przedszkolnych wynosi 10–15 minut. W tym wieku dziecko staje się coraz sprawniejsze i szybsze, a zapotrzebowanie na ruch powoduje, że bardzo chętnie uczestniczy w zabawach  ruchowych  i naśladowczych . W zakresie sprawności manualnej zaobserwować można rozwój umiejętności rysowania, związany z dojrzewaniem połączeń nerwowych odpowiedzialnych za drobne ruchy dłoni i palców. Wzrost sprawności manualnych należy wykorzystywać podczas ćwiczeń z kartami pracy (np. kolorowanie, łączenie, dorysowywanie). Lepsza pamięć i uwaga sprzyja słuchaniu i rozumieniu historyjek i bajek, uczeniu się piosenek i rymowanek.
5 latki – koncentracja na zajęciach zorganizowanych wynosi 15–20 minut. Dziecko na tym etapie rozwoju nie potrafi jeszcze długo skoncentrować się na jednej czynności i potrzebuje częstych zmian aktywności. Lepiej rozwinięta sprawność manualna umożliwia wprowadzanie bardziej złożonych zadań na kartach pracy. Istotną rolę w procesie nauczania na tym etapie odgrywają bajki i historyjki -dzieci emocjonalnie angażują się w słuchanie co sprzyja utrwaleniu wprowadzonego słownictwa i zwrotów. Poprzez zabawy, powtarzanie wierszyków i piosenek przedszkolaki poszerzają słownictwo i utrwalają coraz bardziej złożone struktury językowe.
6 latki – koncentracja na zajęciach zorganizowanych to 20–30 minut. Sześciolatki  wymagają nadal częstych zmian podczas zajęć dydaktycznych , w trakcie których należy wprowadzać różne rodzaje aktywności (zabawy ruchowe, plastyczne, muzyczne, teatralne). W trakcie zajęć należy wykorzystywać materiały wizualne oraz takie bodźce , które wpływają na lepsze zapamiętywanie i dłuższą koncentrację uwagi u dzieci. Rozwój sprawności grafomotorycznej pozwala na wykonywanie bardziej szczegółowych ćwiczeń w kartach pracy. Duża wrażliwość słuchowa sprzyja przyswajaniu słownictwa i struktur językowych poprzez słuchanie bajek i historyjek i  powtarzanie prostych dialogów w zabawach teatralnych.
Nauczanie języka w wieku przedszkolnym powinno być multisensoryczne (angażujące wszystkie zmysły) co przyczynia się do rozwijania wszystkich typów inteligencji dzieci i wpływa na lepsze zapamiętywanie. Stąd na zajęciach występuje częsta naprzemienność różnych form ekspresji-ruchowej, plastycznej, muzycznej, teatralnej. Aktywność językowa współwystępuje z takimi działaniami jak zabawy ruchowe, muzyczne, rysowanie, kolorowanie, czytanie i oglądanie bajek i historyjek w języku angielskim.
Bardzo ważnym elementem jest stosowanie odpowiednich środków wizualnych wspierających naukę. Dziecko najlepiej uczy się widząc konkret, obraz. Karty obrazkowe, kolorowanki – to  pomoce niezbędne w przyswajaniu zdobytej wiedzy. Wykorzystywane są do utrwalania słownictwa czy zwrotów kierowanych do dziecka ( np. point /pokaż /,   colour /pokoloruj/, what colour is your flower /jaki kolor ma twój kwiat/ ). Dziecko uczy się w działaniu, uczy się reakcji na polecenia oraz utrwala słownictwo rozwijając przy okazji manualność.
W wieku przedszkolnym dzieci charakteryzuje pamięć mechaniczna ,myślenie konkretne oraz  szybkie zapominanie pomimo szybkiego zapamiętywania. W centrum nauki znajdują się konkretne nazwy przedmiotów i osób, proste polecenia i zwroty, a w żadnym wypadku nie formalna nauka gramatyki. Podstawowa uwaga skupiona jest głównie na słuchaniu ze zrozumieniem.  Sprawność ta rozwijana jest przez kierowanie do dzieci prostych poleceń w języku angielskim, słuchanie nagrań, historyjek, piosenek.
Nauczanie słownictwa i zwrotów wymaga wielokrotnych powtórzeń w atrakcyjnej formie, oraz zastosowania różnorodnych bodźców podtrzymujących uwagę . Ważną rolę na zajęciach odgrywa maskotka, która sprawia, że nauka staje się atrakcyjna i bardziej efektywna. W czasie zajęć prezentowane są także krótkie bajki i animowane filmy w języku angielskim, w których pojawia się poznane słownictwo.
Ważną rolę w procesie nauczania dzieci odgrywają rodzice, których zadaniem jest rozwijanie motywacji i wzbudzanie pozytywnych emocji związanych z wczesną nauką języka. Na tym etapie przyswajania języka nie należy stawiać dzieciom zbyt wielkich wymagań. Uporczywe odpytywanie z każdego nowego słowa, spodziewanie się ,że dzieci zaczną wypowiadać się pełnymi zdaniami jest błędem i może to zniechęcić dziecko do dalszej nauki. Należy cieszyć się nawet z najmniejszych osiągnięć dziecka i pozwolić aby ten pierwszy etap nauki był dla niego przyjaznym doświadczeniem.
Bibliografia:
Iluk J., "Jak uczyć małe dzieci języków obcych?", Wydawnictwo Wyższej Szkoły Lingwistycznej, Częstochowa 2006.
Komorowska  H. "Metodyka nauczania języków obcych", Fraszka Edukacyjna. Warszawa 2005
Wieczorek A. "Nauka języka obcego w przedszkolu", w: H. Komorowska "Skuteczna nauka języka obcego", CODN Warszawa, 2009.
Nauczanie języków na poziomie przedszkolnym, w: "Języki Obce w Szkole" 1/2015, Wydawnictwo Fundacja Rozwoju Systemu Edukacji, Warszawa 2015.
Akty prawne:
Rozporządzenie Ministra Edukacji Narodowej z dnia 14 lutego 2017 r. w sprawie podstawy programowej wychowania przedszkolnego oraz podstawy programowej kształcenia ogólnego dla szkoły podstawowej, w tym dla uczniów z niepełnosprawnością intelektualną w stopniu umiarkowanym lub znacznym, kształcenia ogólnego dla branżowej szkoły I stopnia, kształcenia ogólnego dla szkoły specjalnej przysposabiającej do pracy oraz kształcenia ogólnego dla szkoły policealnej. , http://www.dziennikustaw.gov.pl/DU/2017/356
Projekt edukacyjny  "Angielski przez bajkę"
 Od stycznia do czerwca 2019 r. w grupach dzieci pięcio i sześcioletnich był realizowany projekt edukacyjny pt  "Angielski przez bajkę". Projekt wynikł z zainteresowań samych przedszkolaków i naturalnej potrzeby dziecka do słuchania i oglądania bajek i baśni w tym wieku. W trakcie realizacji projektu dzieci uczestniczyły w licznych aktywnościach, których zadaniem było utrwalenie słów , zwrotów i reakcji na polecenia w języku angielskim. Do projektu zostały wykorzystane bajki  znane z języka ojczystego a wybór bajek był skorelowany z programem przedszkola i nawiązywał do treści nauczanych w danym miesiącu.
Styczeń – "Cinderella" (Kopciuszek)
Po wysłuchaniu uproszczonej wersji "Kopciuszka" w języku angielskim,  przedszkolaki wzięły udział w zabawie "What time is it?"(Która godzina) w której nauczyły się ustawiać zegary na pełną godzinę podaną w języku angielskim , utrwaliły angielskie nazwy pomieszczeń w zamku, projektowały suknię Kopciuszka na bal i powtórzyły nazwy kolorów.
Luty – "Little Red Riding Hood"(Czerwony Kapturek)
W trakcie zabaw dzieci utrwaliły angielskie nazwy postaci z bajki oraz produktów spożywczych, które trzeba było włożyć do koszyczka. Przedszkolaki z grupy IV w ramach współpracy z placówkami obejrzały angielską wersję przedstawienia przygotowaną przez klasę IV SP nr 162 w Krakowie. Następnie wspólnie ze starszymi dziećmi wzięły udział w warsztatach plastycznych i ozdobiły maski głównych bohaterów bajki.
 Marzec – "The Ugly Duckling" – (Brzydkie Kaczątko)
W trakcie realizacji bajki "The Ugly Duckling"(Brzydkie Kaczątko) zaprosiliśmy jedną z mam, która przeczytała fragment bajki, a następnie zorganizowała warsztaty plastyczne. Dzieci utrwaliły nazwy ptaków hodowlanych z wiejskiego podwórka, przeliczając kaczuszki powtórzyły angielskie nazwy liczebników i wykonały "Taniec Łabędzia" do muzyki klasycznej Czajkowskiego.
Kwiecień – " The Little Red Hen" – (Mała Czerwona Kurka)
Po obejrzeniu teatralnej wersji bajki w języku angielskim pt" The Little Red Hen" przedszkolaki wykonały paluszkowe kukiełki bohaterów bajki , w zabawie teatralnej utrwaliły nazwy zwierząt wiejskich a dzięki przepisowi małej kurki dowiedziały się ile wysiłku potrzeba aby upiec pyszny chleb. W kwietniu w ramach projektu został w naszym przedszkolu zorganizowany międzyprzedszkolny konkurs "Aimals in fairy tales" . Dzieci nie tylko wykazały się umiejętnościami plastycznymi ale też utrwaliły nazwy zwierząt z bajek i baśni.
Maj – "The Enormous Turnip" – (Olbrzymia Rzepa) .  Przedstawienie "Goldilocks and the Three Bears"(Złotowłosa i Trzy Misie)
Poprzez analizę bajki o olbrzymiej rzepie dzieci utrwaliły angielskie nazwy członków rodziny oraz warzyw. W grupie III B z okazji Dnia Rodziny dzieci wykonały muzyczne przedstawienie w języku angielskim pt " Goldilocks and the Three Bears" (Złotowłosa i trzy misie").
Czerwiec – Konkurs wiedzy z języka angielskiego
W Czerwcu po raz drugi w naszym przedszkolu został zorganizowany Konkurs wiedzy z języka angielskiego. Był on zintegrowany z wprowadzonym projektem edukacyjnym i sprawdzał znajomość słownictwa z zakresu angielskich nazw postaci z bajek, owoców i warzyw, pełnej godziny zegarowej, kolorów i członków rodziny, zwierząt hodowlanych, części ciała i reakcji na proste polecenia w języku angielskim .
Podsumowanie
Ewaluacja projektu w trakcie i po jego zakończeniu dowodzi, że bajki i baśnie czytane po angielsku  poszerzają zakres słownictwa i struktur gramatycznych, rozwijają wyobraźnię i koncentrację uwagi.  Przyczyniają  się również  do  nabywania przez dzieci zdolności poprawnego rozumienia ze słuchu i  przygotowują tym samym do umiejętności powtarzania, mówienia oraz używania języka obcego produktywnie.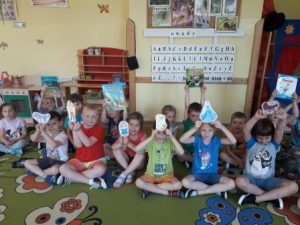 Małgorzata Basiak-Stręk